Prestoso Fest 2019
Con artistas como Airbag, Cupido, Joe Crepúsculo, Cala Vento y The parrots.
Información

Alojamiento y transporte

Seguidores

Chat
Información
AIRBAG · CUPIDO · AUSTRALIAN BLONDE · CALA VENTO · JOE CREPÚSCULO · THE PARROTS · STEVE SMYTH & THE OUTLAWS · ALBERTO Y GARCÍA · THE WELLGREEN · ORTIGA AMPARITO · ORDESA · MINGOTE · PANDEIROS DE XEDRÉ DJs' MARIBEL&SEBASTIAN · PÍCARO · CEREMOÑA · RODRIGO CUEVAS aka Frixuelo de Sangre DJ Del 8 al 11 de agosto de 2019 tendrá lugar la cuarta edición del Prestoso Fest que, como cada año, se celebrará en el Parque Natural de las Fuentes del Narcea, Degaña e Ibias a la vista de la Reserva Natural Integral de Muniellos. Música, gastronomía y paisaje son las claves que han hecho posible año tras año la consolidación de un Prestoso Fest que muestra su apoyo a la música independiente.
Reportar un error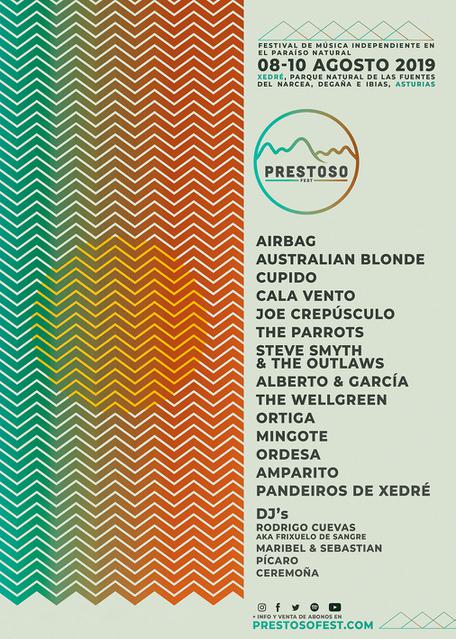 Alojamiento y transporte
Dirección

Xedré, 44, 33811 Xedré, Asturias

Cómo llegar

Xedré, 44, 33811 Xedré, Asturias

Alojamiento

Transporte

Buscar en Buscar con Alsa