The Wedding Present en Madrid | SON Estrella Galicia
Celebrating the 30th anniversary of Bizzaro.
Información

Alojamiento y transporte

Seguidores

Chat
Información
Entradas The Wedding Present en Madrid Fecha: Domingo 22 Septiembre 2019 Hora de apertura de puertas: 20:00 Lugar: Independance Club Precio: 16€ Anticipada / 10€ Taquilla Prohibida la entrada a menores de 18 años The Wedding Present ha tenido dieciocho éxitos en el Top 40 del Reino Unido ... no está mal para una banda que, desde su inicio, se negó obstinadamente a tocar en el juego de la industria discográfica. Eso fue en 1985 cuando David Lewis Gedge abordó a un entrenador de National Express en Londres con 500 discos empaquetados en un par de maletas de su madre. De esta manera, el single de debut GO OUT AND GET 'EM BOY! Se recolectó en la planta de prensado, se entregó a la empresa de distribución y nació The Wedding Present. Ese espíritu pionero ha estado en el centro de la filosofía de la banda desde entonces.
Reportar un error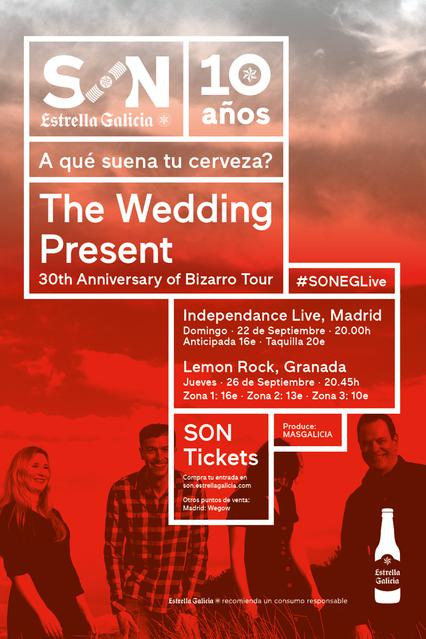 Alojamiento y transporte
Dirección

Calle Atocha, 127, Madrid

Cómo llegar

Metro: Atocha (L1) Tren: todas las líneas de cercanías

Alojamiento

Transporte

Buscar en