Fuzzville!!! 2020
Abonos a la venta próximamente.
Información

Alojamiento y transporte

Artistas

Seguidores

Chat
Información
El festival Fuzzville!!! vuelve en su sexta edición los días 27, 28 y 29 de marzo de 2020 al resort medieval Magic Robin Hood en Benidorm, Alicante, España. En Fuzzville!!! 2020 comienza la temporada de festivales con música punk, rock y garage. En pasadas ediciones, han pasado por el Fuzville!!! artistas como Thee Oh Sees, Carbonas, Pandoras, The Allah Las, Jeff The Brotherhood y La Banda Trapera del Río. No te pierdas las novedades sobre la sexta edición de Fuzville!!! con artistas por confirmar. Toda la información sobre el festival Fuzville!!! 2020 (cartel, confirmaciones de artistas, recinto, fechas, horarios, cómo llegar, entradas, abonos) en Wegow. Encuentra entradas y abonos para Fuzville!!! 2020 en Wegow.
19:00h
27 mar. 2020 - 29 mar. 2020
Reportar un error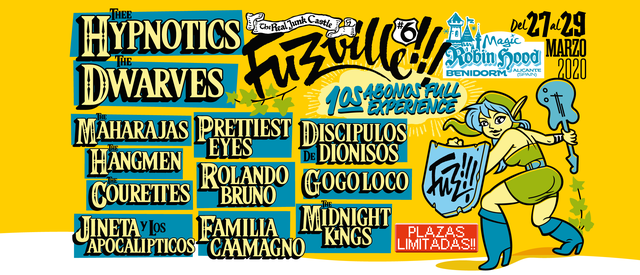 Alojamiento y transporte
Dirección

Camino Viejo de Altea, S/N, 03581 lAlbir, Alicante

Cómo llegar

TRANVÍA: Línea 9 (L'Alfàs del Pí) COCHE: Carretera N-332